Nowak Digital Division is proud to be a provider of Whip Mix® 3D printer resins. With over 100 years of experience serving the dental industry, Whip Mix® is a company Nowak trusts for materials.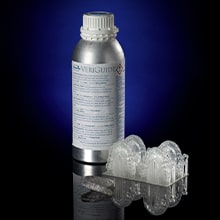 VeriGuide Generative Resin
Veriguide Generative Resin is a biocompatible 3D printing material made especially for surgical drill guides. It is ideal for DLP and solid state laser printers that use light sources that emit light at ≤ 385nm. The resultant guide is clear/transparent, has low shrinkage, high toughness and can be disinfected easily and effectively. When used with the Asiga 3D printers, Veriguide Generative Resin is an ideal material to produce fast and extremely accurate drill guides.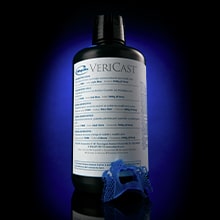 VeriCast Generative Resin
Optimized to work with the Asiga 3D printers and compatible with most investment material. Ideal for crown & bridge burnout patterns and model casts.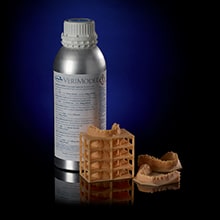 VeriModel Generative Resin
This resin is available in golden brown, white, and ivory. VeriModel 3D Print Resin provides the dental laboratory and office with a multi-purpose model resin exhibiting a high quality surface finish and precision printed on DLP systems with 385nm or 405nm light source. This versatile material can be used for a wide variety of 3D printed applications, including the production of highly accurate orthodontic and presentation models. It can be used with silicone-based separators, vacuum formers and is robust enough to be used with a laser-welder. 3D Printed VeriModel OS materials provide the lab or dentist with all the advantages of 3D printed models, including reliable accuracy, fine detail, and clean, smooth surfaces.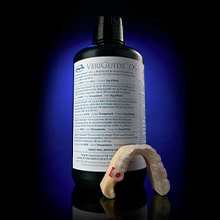 VeriGuide OS Surgical Guide Resin
Whip Mix introduces VeriGuide OS, a Class I, CE certified resin material developed for the production of high precision surgical guides for use in dental implant surgery. The new material is formulated for 3D-printing systems (DLP, SLA, and LCD) at both 385 nm and 405 nm. VeriGuide OS™ has been successfully tested for biocompatibility and meets all mechanical properties requirements. The resin features an easy post-processing method and produces highly accurate surgical guides with a high quality surface. Sleeves may be inserted directly after printing with excellent fit. The material can also be sterilized by autoclave, steam, ethylene oxide, or gamma rays without affecting dimensional stability, physical properties and biocompatibility.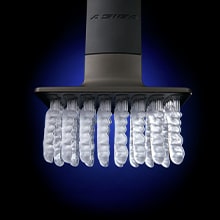 VeriSplint OS 3D Print Resin
Whip Mix has developed a 3D printed resin that is rigid and durable for dental splints. The additive manufacturing of splints provides a high level of efficiency by removing several lengthy steps and lowering the cost of materials. It also brings a greater degree of digital design flexibility into the process, which improves both the lab's and the patient's experience.