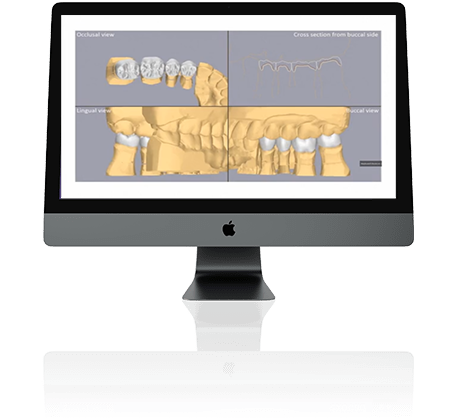 Automate
Use 3Shape Automate for your upper nightguard designs, and your single and multi unit monolithic molar and premolar crown designs. Choose your design settings, upload your scans, then Automate advanced AI technology delivers your designs as fast as you like.
Help find the ideal software for my lab
Features
Automate delivers predictable AI driven results. Automate has delivered over 500,000 designs with a Design Acceptance Rate of more than 92%. Order with confidence.
With Automate, your designs can be completed in 5 minutes. No need to fight the clock, Automate is available anytime, 24/7
Upload 100s of orders. They'll all be ready at your selected turnaround time — perfect for any sized lab seeking instant scalability.
Automate is free to try. You only pay for the designs you approve. Use it when your lab needs to scale production or cost-effectively outsource design.