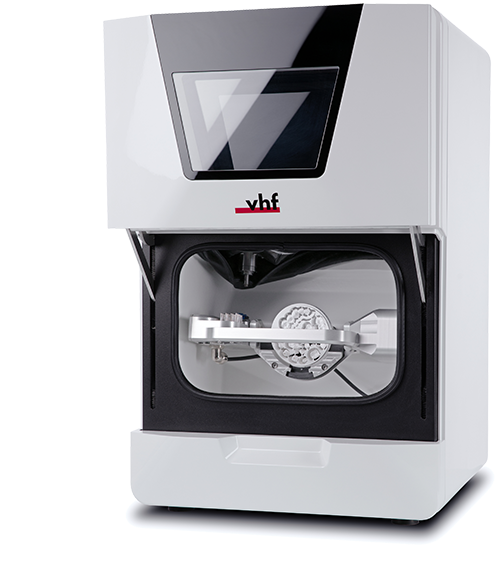 VHF E5
Step into a new era of milling with vhf! Experience the groundbreaking E5 milling machine, designed to seamlessly integrate and optimize your digital dental workflow. Don't be fooled by its compact size – the E5 boasts a spacious working chamber that provides ample room for your milling needs. Whether you're working with discs or blocks, the E5 makes the milling process a breeze.
What sets the E5 apart is its ingenious design that eliminates the need for compressed air. Unlike other machines, there's no requirement for an external compressed air connection or an integrated compressor. Thanks to our revolutionary AIRTOOL, which is currently pending a patent, the E5 harnesses the power of its high-frequency spindle to generate a robust airflow. This airflow effectively clears away dust and chippings, ensuring a pristine workpiece. Any remnants are promptly removed by a vacuum system connected to a dust collector.
Upgrade your milling experience with vhf's E5 – the future of precision and efficiency in dental milling.
Help find the ideal mill for my lab
Features
No Compressed Air Required
24-Month Guarantee
3 μm Repetition Accuracy
Cast Aluminum Body for Low Vibration in Operation
CAM Software Included
Automatic Tool Changer
Specs
Millable Materials: Composites, plastics/wax, zirconia, CoCr sintered metals Discs, height 10–40 mm, diameter 98.5 mm Blocks up to 40 × 20 × 20 mm (block holder required)
Indications: Crowns, bridges, inlays, onlays, veneers, occlusal splints, full dentures, denture frameworks, implant bars, abutments, screw retained crowns, screw retained bridges, surgery guides, primary crowns, secondary crowns, model plates, model tooth dies
Holder systems: Holder for 98.5 mm discs (integrated) · holder for 110 mm discs (optional) · block holder (optional) · Ivotion1 accessory kit (optional)
Number of axes: 5
Lighting: RGB LED lighting with status indication
Spindle Speed: Up to 60,000 rpm
Spindle Power: Peak power (Pmax): 800 watts · nominal power (S6): 400 watts · continuous power (S1): 300 watts
Spindle Bearing: 2-fold hybrid ceramic ball bearing
Processing Modes: Dry
Power supply: 100–240 volts · 50/60 Hz, 500 watts
Extraction system: Extraction filter class M, 2,500 l/min extraction capacity at 200 hPa
Operating temperature: Between 10 °C and 35 °C