Nowak Digital Division is proud to offer GC ceramics from GC America.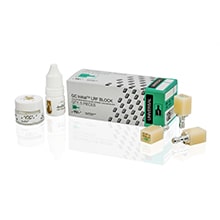 GC Initial LRF BLOCK is an innovative new leucite-reinforced feldspar ceramic block that offers the highest aesthetics of traditional feldspathic porcelain with added flexural strength by adding the perfect combination of leucite ceramic. Leucite reinforcement of glass ceramic offers increased flexural strength and resistance against possible crack formations and chipping at the margins. The particle size and particle distribution of the leucite crystals contribute to the aesthetic appearance as they reflect the incident light in nature the same way. These ceramic particles are homogenously distributed and dense providing your patients restorations that are not only beautiful and aesthetic, but strong and durable as well.
CERASMART® Universal provides unsurpassed physical properties and impact dispersion due to the fully homogeneous and evenly distributed nano ceramic network. CERASMART Block with Universal Mandrel is a unique dental material that combines the best characteristics of a high strength ceramic and a composite. In addition to the highest degree of elasticity, flexibility, strength, and breaking energy, this innovative hybrid nano ceramic helps ensure the best marginal integrity and high strength after bonding. As a result, CERASMART Block with Universal Mandrel is perfectly suited for posterior, anterior, inlay, onlay, and implant restorations and also enables minimum tooth reduction for minimally-invasive restorations. The superior reliability of CERASMART Block with Universal Mandrel, as well as its unmatched aesthetics, milling accuracy, fastest mill time, and self polishing properties are also excellent features. Finally, this tooth-colored, naturally opalescent nano ceramic material offers properties that are almost identical to those of natural teeth, ensuring your patients the most innovative restoration on the market.