Nowak Digital Division offers VITA® solutions from Amann Girrbach.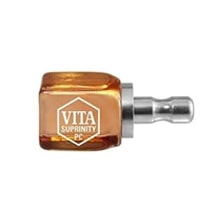 VITA SUPRINITY PC is the first zirconia reinforced lithium silicate glass-ceramic (ZLS)* and the product of a new glass-ceramic material generation, which sets new standards. It is characterised by a particularly fine-grain and homogeneous microstructure, which ensures an excellent material quality and therefore consistently high loading capacity and long-term reliability. In addition, the material has outstanding processing characteristics such as easy grinding and polishing properties. Integrated translucency, fluorescence and opalescence provide an optimal basis for impressively natural aesthetic restorations. The abbreviation PC stands for Partially Crystallized.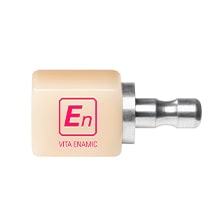 VITA ENAMIC multiColor for Ceramill are hybrid ceramic CAD/CAM blanks which feature an integrated, finely nuanced colour gradient from the neck to the edge. The blank with AG holder is available in five common VITA shades.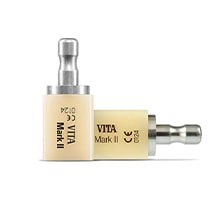 The very fine structure of the Mark II and the industrial process are the reasons for the good polishability and excellent enamel-like abrasion properties of restorations fabricated using VITABLOCS Mark II. The material and processing technology advantages of feldspar ceramic, which have been proven by scientific studies, correlate with those of 9 million restorations fabricated to date using Mark II fine-structure feldspar ceramic blocks.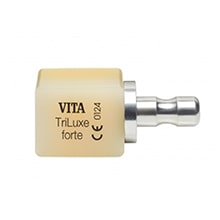 VITABLOCS TriLuxe forte is a VITABLOCS generation with four levels of shade intensity based on the VITABLOCS Mark II, which have been successfully proven a million times over in clinical use for more than 20 years. The shade transition from enamel to cervical area layer is even finer nuanced in 4 layers: enamel-dentine-intensive dentine-cervical layer, with a greater accentuation of the chroma in the cervical area. The very fine structured feldspar ceramic, which conserves the milling tools, is impressive on the one hand because of the antagonist-friendly abrasion properties that correspond to those of the natural tooth structure and on the other hand due to optimal light conductivity effects and white fluorescence. In combination with the cervically increasing fluorescence this also ensures a natural shade effect, even with thin layer thicknesses.