Nowak Digital Division is proud to offer a variety of zirconia materials from Amann Girrbach.
This polychromatic, super-high translucent zirconia with integrated shade and translucency gradient. It offers smooth shade transitions that simulates tooth enamel and eliminates disruptive shade edges.
This pre-stained and super-high translucent zirconia is ideal anterior restorations. Homogeneously stained throughout in an industrial process, the blanks can be sintered directly after milling.
These super-high translucent zirconia blanks combine the outstanding processing characteristics of zirconia with exceptional translucency. The result is esthetic restorations with permanent strength and stability.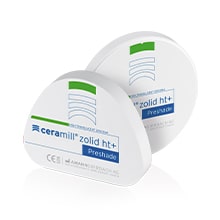 These highly translucent, monochrome zirconium oxide blanks combine high mechanical indices with excellent aesthetics and the efficiency of pre-stained materials.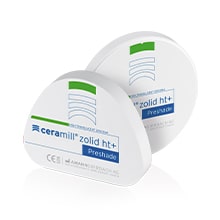 Zolid HT+ is a highly translucent zirconium oxide which combines high mechanical characteristics with outstanding aesthetics. Optimized milling processing results in even more delicate margin design.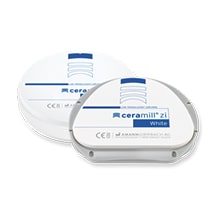 ZI features high strength, rigidity and biocompatibility. Restorations crafted from the pre-sintered blanks have a particularly high flexural strength of up to 1200 MPa and can be processed without any problems.