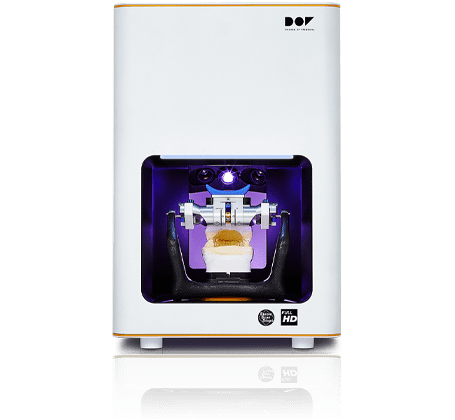 DOF FREEDOM HD
The DOF FREEDOM HD scanner offers all of the features you would expect from a premium scanner and more. Using a completely unique patented technology called Stable Scan Stage (SSS), the 2.0MP camera and light module move 0-90° and the scanning plate rotates 360° around the scanning stage to capture all necessary details without using fixtures or adhesives to hold the models in place. Equipped with Smart Alignment software, this scanner eliminates the need for rescans in the event the model moves during the scanning process. One of its most distinctive features is that the expanded scanning stage now accommodates any large or metal articulators so you can scan any articulator on the market.
Help find the ideal scanner for my lab
Features
Unique Stable Scan Stage technology eliminates the need for fixtures, jigs or adhesives when scanning models.
Upgraded 2.0 megapixel camera provides greater precision.
USB 3.0 delivers faster processing.
All-in-one scanning of upper and lower cases in a single step saves time.
Expanded scanning stage accommodates any large or metal articulators.
Capable of multi-die scanning for increased efficiency.
Specs
Moving Method: SSS Method
Axis: 2axis
Light Source: White light LED
Technology: Structured Light
Camera Resolution: 2.0MP (2 cameras)
Software: Open Type (STL compatibility)
Accuracy: 10 microns (The scanning accuracy may vary depending on the working environment or your model.)
Dimension: 330 (W) x 495 (H) x 430 (D) mm
Weight: 33.07 lbs
Power: 110-240V, 50-60 Hz
O/S: Windows 7, 8 (64 bit)